Air Freight Service
PNTC has great advantages to provide clients with high standard airfreight services from Viet Nam to the world and vice versa, thanks to its years of intensive experience in airfreight services, dedicated and experienced team of experts, world- wide network of dynamic agents and being reliable partner of international airlines.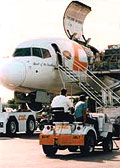 Services:
PNTC is freight agent and GSA for several famous international airlines, covering high load capacity and intensive flight frequency to almost locations in the world. Our partner airlines include Singapore Airlines, Thai Airways, Malaysia Airlines, Japan Airlines, China Airlines, Eva Air, Korean Airlines, Asiana Airlines, United Airlines, Lufthansa Airlines, Air France, Cargolux, Vietnam Airlines…
In order to provide the customers with more solutions than only traditional airfreight, PNTC also offer further multi-modal transport solutions such as combining oceanfreight and airfreight (sea-air), transit via Singapore and/or Dubai, providing clients with faster and more cost effective transportation.
PNTC undertakes diversified logistics services from shippers' warehouses to airports or consignees' warehouses such as airport to airport, door to airport, airport to door, door to door).

Export consolidation and import de-consolidation
Door to door import and export airfreight services including packaging, loading & unloading, local transport, customs formality, International airfreight and door delivery.
Additional services: Customs brokerage, goods insurance, certificate of origin, quarantine certificate, fumigation, wood crating...


PNTC transports various categories of commodities such as general dry cargo, hanging garment, frozen seafood, perishable cargo, dangerous goods, etc .
Particularly: transporting textiles and garments to the USA and Europe; frozen samples to Japan, the USA and Europe, diplomats' personal effects, engines and spare parts of airplanes and ships, project cargoes, etc.
For import cargo, Vinalink transports machines and spare parts of industry – agriculture – fishery fields, chemicals, accessories and equiments of health industry, cosmetics & beauty care products from Europe and the USA; computers, laptops accessories, components and spare parts from the USA and Asian countries; materials for textile and garment from Asia; exhibition cargo for local trade fair events...
PNTC SHIPPING & LOGISTICS CO., LTD
HEAD OFFICE: 151A CO GIANG STREET, DIST. 1, HCMC
TEL: 84.8) 38364015 (MAIN LINE)